I am knitting a sweater! I try to make one or two sweaters for myself every year, and last year, I only made one. (And it may or may not be quite finished.) So I'm getting an early start this year. The sweater is a design by Melissa Leapman for Cascade Yarns and is called the Adrienne Jacket. I'm using Cascade's Eco Cloud.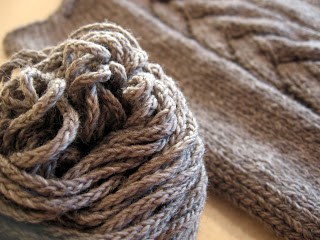 I made a few one skein projects with Cloud and decided I'd really like a deluxe sweater made out of it. It has a lovely buoyancy and bounce on the needles and responds beautifully to different needles sizes and gauges.
It's no coincidence that I'll be teaching this pattern in our Winter Sweater Class this month. I've fallen in love with the yarn and when I started looking for a pattern to teach, this one really stood out.
It will be a good fit for knitters who already know how to knit but who want to develop their sweater knitting skills. There is enough detail with the cables to keep your interest--but it's not hard. We'll do a Finishing Workshop at our last session to put the pieces together and hone our finishing skills. At a gauge of 16 sts & 24 rows = 4", this is a pretty fast knit, too.
The class starts at the end of the month, and there is still room for you! Did you resolve to build your knitting skills this year? Are you ready to learn or improve your finishing skills? Call the shop for more information or to sign up.
I'm looking forward to knitting with you this year!